Expert Spotlight: Benelux M&A Challenges and Opportunities in 2024
At our recent Dealmakers Dialogues event in Amsterdam, experts Bas Glas, Sergio Herrera, Stephanie Horowitz, and Lena Lindlar discussed the M&A landscape in Benelux, including the headwinds and tailwinds shaping dealmaking there. While the availability of substantial capital and a more stabilized interest rate environment provide scope for opportunity, several challenges persist.
Challenges for M&A
Economic and geopolitical uncertainties continue to cast a shadow over the M&A landscape in Benelux. The lingering impact of past uncertainties, such as fluctuating interest rates and geopolitical tensions, has made market participants cautious. Investors are now more focused on understanding how businesses will weather potential economic headwinds over the next 18 months.
Inflationary pressures are also a significant concern for dealmaking. Rising inflation has led to an increase in return requirements, affecting the valuation of assets. Investors are grappling with the challenge of adjusting to higher costs of capital, which impacts deal dynamics and valuations.
And while interest rates have stabilized, the cost of capital remains higher than historical levels. This poses a concern for investors, especially in an environment where return requirements have increased. Balancing the cost of capital with valuation expectations becomes crucial for successful deal execution.
Lastly, the regulatory environment is evolving, posing additional challenges to M&A transactions. New regulations, such as the foreign direct investment screening regime and the foreign subsidies regulation, introduce uncertainty and add complexity to the deal process. Antitrust processes, while clear in their timelines, are subject to regulatory scrutiny, creating potential hurdles.
Trends & Opportunities Shaping Dealmaking
It's no surprise that the presence of significant capital creates opportunities, especially for PE firms armed with ample dry powder. This abundance of capital is a driving force behind deal activity, providing financial support for transactions. And despite the aforementioned challenges, certain sectors could demonstrate resilience and sustained activity, such as healthcare, ICT, and energy.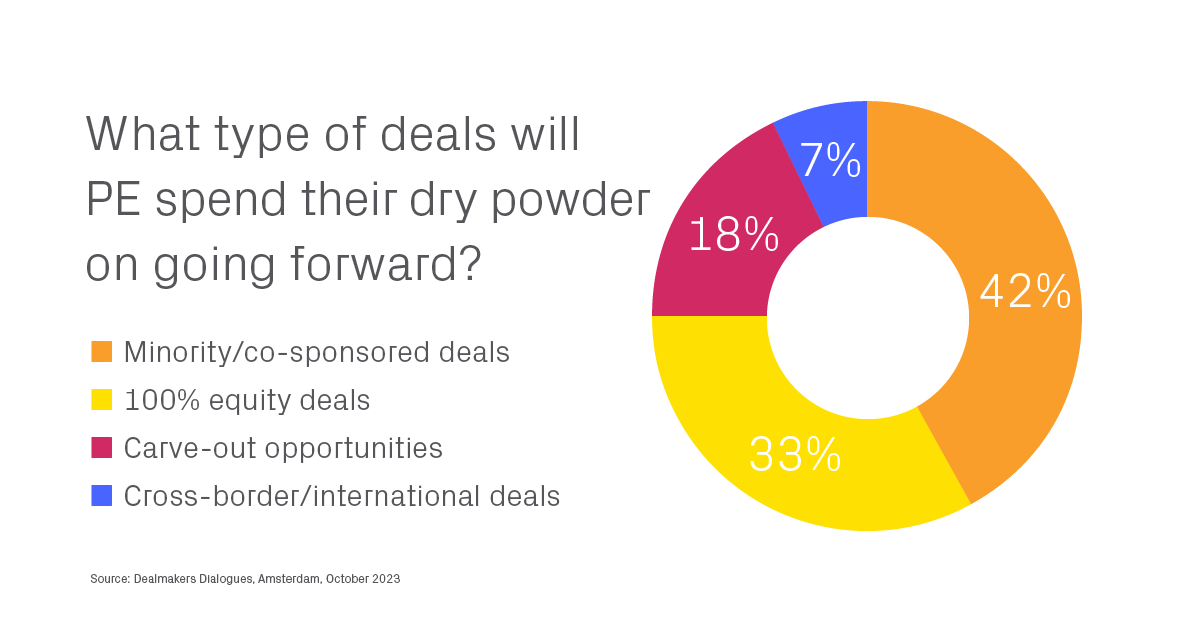 Environmental, Social, and Governance (ESG) considerations are also becoming increasingly important in dealmaking. Investors are drawn to businesses aligned with long-term ESG trends, reflecting a growing emphasis on sustainability and responsible business practices.
Smaller transactions also are on the rise and advisors are employing more creative deal structures. These may include minority stakes, earn-outs, deferred payments, and other innovative approaches to address the unique needs of each transaction. The emphasis is on thoughtful proposals, early interaction with potential buyers, and tailored processes that accommodate the changing dynamics of the market.
Adapting Key to Success
While the abundance of capital fuels optimism, economic uncertainties, inflation concerns, and evolving regulations create challenges for M&A in Benelux. Successful dealmaking hinges on adapting to these dynamics, embracing creativity in deal structures, and navigating a landscape where relationships and flexibility play pivotal roles. As the market continues to shift, advisors and market participants must remain agile, forward-thinking, and collaborative to capitalize on emerging opportunities.